Welcome to Cricklade Pétanque Club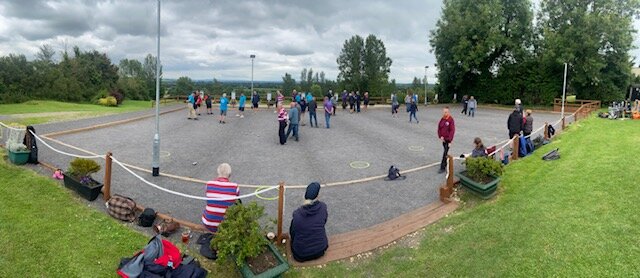 Cricklade Pétanque club has been formed as a community Pétanque club where all are welcome to join us.
We have an enthusiastic committee, and all our members are very friendly and will welcome you to join and play Pétanque at our Cricklade Club. Please feel free to just turn up or contact us for further information.
Pétanque is a truly inclusive sport where people from all backgrounds and abilities can compete whether playing just for fun or for a healthy challenge. There are opportunities to have a go or play with the club at various times throughout the week, so please come along and meet some of the players. Do not panic if you do not possess a set of boules as the club can lend a set to play
The Venue
The venue for our club and piste is in the spacious grounds of the Cricklade & Spa situated on Common Hill, Cricklade. The pistes are located overlooking the local stunning countryside. The Hotel will be open to all members for refreshments, tea and coffee, cakes and hot food from the Hotels menu. CPC members are offered discounts by the Hotel on all overnight stays, refreshments and meals.
Playing Pétanque
Pétanque is a game for everyone, it is sometimes referred to as French Boules. Petanque can be a competitive sport for those who enjoy playing it more seriously, but can also be enjoyed socially with friends and family. Our members will be happy to welcome you and your family and friends to our club to get you started.
The club owns some spare sets of boules and these can be loaned out to newcomers, information is available at the club for you to purchase your own Boules and Club Sportswear. Free coaching can be given to all new members either singular or in groups.